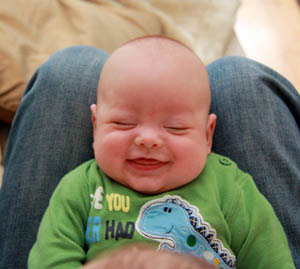 Micah was 5 months old and 5.6kg yesterday. Where has the time gone!?
He is a very happy, active little boy now. He likes to play with his toys, bop around in his door bouncer, and smile at himself in the mirror. All this activity during the day also means he's started sleeping for longer stretches during the night. I'm especially delighted about this! It feels amazing to finally be getting 8 solid hours of sleep again.
He's had all of his first follow-up appointments now (hearing, eyesight, MRI, and developmental checkup) and is perfectly healthy 🙂
We are half way through summer here. It has been a great one so far and we have lots going on in the next month or two as well. My mum came to visit for the first half of July. She got to meet Micah for the first time and had some precious cuddles, smiles and play time with him. We did a few day trips around Dublin and the surrounds to show Mum where we've been living for the last 4 years. It was a lovely visit with lots of Mum and daughter time and lots of Grandma and Micah time too.
On Friday the three of us are headed to Boston. Matt will be visiting the Google Cambridge Office and Micah and I will be sightseeing and shopping for the week. It will be Micah's first time on a plane and we're treating this as a test run for a potential trip back to New Zealand with Micah later in the year… more news on that once plans are confirmed.
Once we return from Boston we have the wedding of two dear friends to celebrate on the 1st of August, followed closely by the arrival of Matt's parents on August 2nd. Mark and Gill are coming to see us and spend some quality time with Micah on either end of a European cruise holiday. They're cruising the Greek Islands, visiting Prague and Moscow, then taking a river cruise to St Petersburg. Sounds fabulous doesn't it. I'm a teensy bit envious as those are two areas we haven't managed to travel to yet!
At the end of August our friends Brian and Tamsyn are hopping across from London for a short stay. Mark and Gill will be back for a few days at the start of September and my aunt Caroline is coming for a visit after that.
It's wonderful to have so many visitors! Anyone else keen to pop over and say hi? We'd love to see you.
Comment from Gill Brown on 2011-07-20
Just can't wait!